Get A Free Open Auto Transport Quote Instantly | Save Up To 25%
---
Open Auto Transport Services | Vehicle Transport | Car Shipping
When faced with the difficult decision of how to ship your car, it's important to be aware of the shipping services available to you. There are two main modes of car shipping: open auto transport services & enclosed auto transport.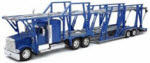 Open auto transport is a form of shipment used by many vehicle manufacturers and dealers throughout the country. These double decker, framed trailers can be seen along any major highway across the United States hauling shiny new vehicles to dealer lots around the country. Open auto transport is the most common and cost effective way to ship your car. Almost every reliable auto transport company provides open auto transport method of car delivery.
Pros & Cons of Open Car Transport
Cons: Please do not get discouraged, we are just wanting our customers to be in the know. When choosing open vehicle transport your car is placed on a large trailer and is exposed to the weather and natural elements that a vehicle would encounter on the highway. It's as if you were driving your vehicle the distance of the trip, without putting the added mileage on your car. The vehicle is exposed to the road and environmental elements, and is at risk for minor dings and scratches just the same as if you were to drive it. The great news is that less than 1% of cars have any sort of damage, so it is not anything to be worries about.
Pros: With open auto transport being the most common mode of shipment, you can rest assured that you will get the best auto transport pricing available. We work with only the most reliable and trusted auto carriers that take the safety and care of your vehicle very seriously.
Open Auto Transport Safety Tips
Some experts claim that where your vehicle is placed on the open car transport carrier can be beneficial for added safety. Many carriers state that it is beneficial to choose a premium carrier that offers a top load position for your car. With a top load placement, your vehicle will be free from leaking fluids; however, it will still be exposed to the weather elements that incur along the highway. Other's will claim that choosing a lower level position closest to the cab will offer added protection from road debris that kicks up onto the trailer, imposing possible damage to your vehicles paint and exterior.
We are always here to help in the decision making process. Call us today to speak to one of our experienced auto shippers for helpful tips on your upcoming auto shipment and see if pen auto transport is the best option for you.  If speedy and cost effective shipment is what you need, then choosing open car shipping is for you! Contact our live support team now, (866) 594-3187!