Auto Transport Services | Get A Free Auto Transport Quote Instantly | Save Up To 40%
12 Questions To Ask Before Choosing An Auto Transport Company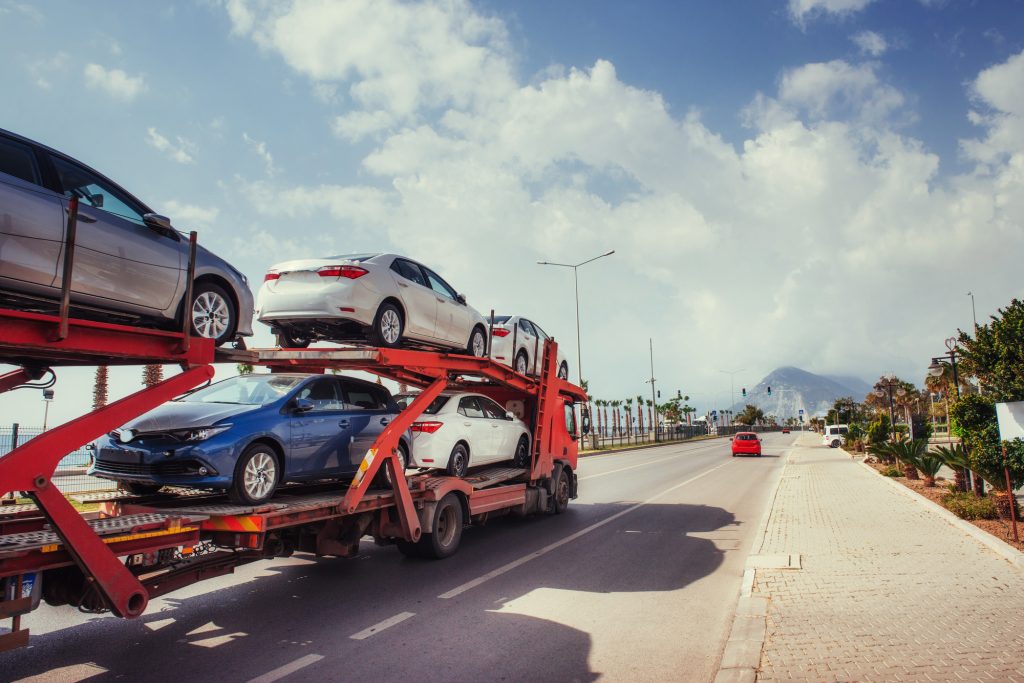 Do you want to auto transport services and make sure that it moves from point A to point B as safely as possible?
If so, you need to make sure that you hire the right car shipping service to get the job done. But this can be difficult to do when you consider that there are more than 4,000 car shipping services scattered across the country at the moment.
Fortunately, there is one easy way to narrow down your search for the right car shipping company. By asking a series of questions to the different car shipping services you're considering, you can track down the company that would be best for shipping your vehicle.
Take a look at the 12 questions you should always ask before choosing a car shipping service.
1. How Long Has Your Car Shipping Service Been in Business?
The first thing you should do when speaking with someone from a car shipping service is trying to find out more information about the history of the company.
Specifically, you want to see how long the service has been around. While you don't necessarily need to work with a company that has 50 years of experience, you also don't want to trust a company that just opened up last week to move a vehicle for you.
In a perfect world, a company should have at least a few years of experience as far as shipping cars is concerned. This will let you know that they know how to ship a car the right way without doing any damage to it.
2. What Kinds of Car Shipping Services Do You Provide?
Once you've got a good feel for the history of a car shipper, you can move on to talking about some of the specific services that they offer.
There are some car shipping services that will only ship vehicles within a specific region. There are others that can extend nationwide shipping services to you and take your vehicle anywhere in the U.S.
If you need your car taken all the way across the country, it's best to find a car shipping company that has experience doing it. There are all sorts of logistical challenges that come with shipping vehicles thousands of miles away.
Additionally, you should find out if a car shipping service does terminal-to-terminal car shipping, door-to-door car shipping, or both.
With terminal-to-terminal shipping, you'll be responsible for bringing your car to a central location so that it can be picked up by a shipping service. You'll also be responsible for retrieving it later from a terminal located in your new location.
Door-to-door car shipping, on the other hand, takes all of the work out of the equation for you. Your shipping service will handle picking your car up at your home or business and dropping it off wherever you want it.
It'll be up to you to decide which way you choose to ship your vehicle based on what services a company can provide for you.
3. What Options Do You Offer When Shipping Cars?
In addition to talking to a car shipping company about the delivery services they provide, you should also inquire as to how they'll actually go about transporting your vehicle.
Most companies will allow you to choose between open car shipping and enclosed car shipping. There are pros and cons that come along with each of these options.
With open car shipping, your vehicle will be placed on the back of an open truck along with other vehicles. It will be exposed to the elements as it moves to your new location.
This is typically the more affordable option when transporting a vehicle. But you should keep in mind that your vehicle will likely encounter sun, rain, snow, and more as it's being transported.
With enclosed car shipping, your vehicle will be placed inside of an enclosed truck along with other vehicles. This option usually costs more money, but it prevents your vehicle from being affected by the weather during transportation.
It's best to choose a car shipping service that will give you the choice to choose one of these two options when shipping your vehicle.
4. How Long Does It Take For You to Ship Cars?
Just about all car shipping services will tell you that they can ship cars quickly. But not all of them have systems in place to make this possible.
If time is of the essence when it comes to shipping your vehicle, you need to work with a company that you can trust to bring your vehicle to its new location in a matter of just a few days, if not sooner.
Most of the larger car shipping services have no problem shipping vehicles quickly. They have a fleet of trucks ready and waiting to deliver vehicles to their new destinations.
But when you're interviewing a car shipping company, you should always ask about their turnaround time. Otherwise, you could end up waiting around for your car to be delivered for much longer than you had hoped to.
5. How Much Do You Charge to Ship Cars?
Cost shouldn't necessarily be your primary concern when you're looking to ship a car.
You might find a company that offers an unbelievable price on car shipping, but they might not do a great job and damage your car in the process. It could end up being your worst nightmare.
You should obviously ask how much a car shipping service is going to charge you to ship a car, though. And you should do your best to obtain quotes from several different companies to see which one will offer you the best deal.
The cost of car shipping usually depends on a number of factors, including:
The time of year
The price of gas
The size of your vehicle
Whether you choose terminal-to-terminal or door-to-door shipping
Whether you decide to go with open-car or enclosed-car shipping
And more
Your goal should be to find a car shipping service that offers the cheapest way to ship a car without skimping on quality services.
6. What Steps Do You Take to Prevent Cars From Being Damaged?
The biggest concern you're going to have when shipping a car is damage being done to it during transport. You do not want to get your car back and realize that it's been scratched en route to your new location.
Before you agree to work with a car shipping service, find out how they plan to prevent your car from getting damaged. Do they:
Limit the number of cars they ship at one time?
Position cars on a truck a certain way to avoid damage?
Ask drivers to periodically inspects cars for signs of damage?
Each car shipping service operates a little bit differently as far as preventing damage. But you should never sign up to work with a company that doesn't take every precaution to keep your vehicle safe.
7. What Happens If a Car Is Damaged During Shipping?
No matter how hard a car shipping service tries not to damage cars during shipping, accidents are going to happen. When they do, how is a service going to respond to it?
A great car shipping company will work to make repairs to any cars that are damaged. A bad car shipping company will place blame on the customer for having damaged a car prior to shipping it.
You want to work with a company that falls into the former category. They should work hard on your behalf to make sure your car isn't damaged during shipping and fix it if an accident does happen to take place on their watch.
8. Is Your Car Shipping Company Fully Licensed and Insured?
The sooner you can ask this question, the better. You might not want to make it the very first thing you ask, but you shouldn't ever work with a car shipping service that isn't fully licensed and insured.
Ask a car shipping company to show you their license and provide you with proof of insurance prior to trusting them with the keys to your vehicle. It's really the only way to guarantee that your car will be covered in case an accident is to occur.
9. What Qualifications Do Your Drivers Have?
When you first contact a car shipping service, there's a good chance that you're not going to speak to the person who is ultimately responsible for bringing your car to its final destination.
That responsibility is going to fall on the truck driver that is employed by the car shipping company. And it's extremely important for that truck driver to be qualified to do the job they're going to be asked to do.
Find out what qualifications a company's truck drivers have to transport cars. They should have lots of experience in the car transportation industry and be capable of getting your car to wherever it needs to go safely.
If you have any concerns at all about the drivers employed by a car shipping service, take your business elsewhere.
10. Can You Provide a List of References?
As long as a car shipping service has been around for a few years now, they should have a long list of references that they can provide for you. Reach out to a few of those references to see if they can tell you more about patronizing a particular car shipping business.
If, for whatever reason, a company can't provide you with references, you can also use the internet to your advantage and find online reviews for a business. Those reviews will give you a good overview of what it will be like for you to work with a company.
If you spot any negative reviews, feel free to ask the company to respond to them. They should have a good explanation for why a specific customer was unhappy with the services that were provided to them.
11. What Is Your Company's U.S. Department of Transportation Number?
Regardless of how forthright a car shipping service is with information about their business, it never hurts to run a quick background check on them to see if they've had any issues in the past.
Ask a company to provide you with their U.S. Department of Transportation number. Then, use the Federal Motor Carrier Safety Administration's website to get a "Company Snapshot" of any car shipping service you want.
This "Company Snapshot" will tell you:
A company's name
A company's location
The size of a company
The safety record of a company
The cargo that a company has carried in the past
And so much more
You can find out everything you ever wanted to know about a company with the help of the Federal Motor Carrier Safety Administration.
12. Can You Track the Location of a Vehicle During Shipping?
When you're shipping a vehicle, there are going to be times when you'll want to know where it is. Your car shipping service should be able to track the location of it and let you know.
This will help put your mind at ease when you're shipping a vehicle. It'll also allow you to make the proper arrangements to pick up your car or to have it delivered once it arrives in your new location.
Use the Answers to These Questions to Choose a Car Shipping Service
Moving a car to a new place can be a stressful process if you call on the wrong car shipping service to do it. There is nothing worse than having a car shipped late or finding out a car was damaged upon arrival.
When you work with the right company, you won't have to worry about a thing when you're moving a car. You can get it from point A to point B safely so that you can start driving it right away.
Are you looking for a company you can trust to move your vehicle? Obtain a car shipping quote from us today and find out how easy it can be to move your vehicle with our help.