Get A Free Enclosed Auto Transport Quote Instantly | Save Up To 25%
---
Enclosed Auto Transport Companies | Covered Car Shipping Services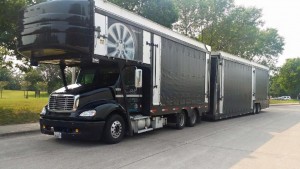 Enclosed auto transport services are the best in the business when it comes to protection and safety of your vehicle. Shipping a car from one location to another can be a nerve-wracking experience for a vehicle owner. Many car owners are concerned about the damage that could potentially be done to a vehicle as it's being transported to its final destination.
As long as you work with a reputable car shipping service, you shouldn't have anything to worry about when you ship a vehicle. But if you really want to put your mind at ease, choose to go with enclosed car transport as opposed to open car shipping when you're moving a vehicle.
Enclosed car shipping (sometimes also referred to as covered car shipping) does cost a little bit more than open car shipping does. But it's well worth the extra investment for those who are anxious about putting their car onto the back of a truck.
Learn more about what covered car transport is and how it could benefit you below.
What Is Enclosed Car Transport | Covered Car Shipping?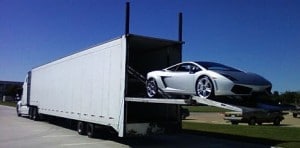 There are some people who confuse covered car shipping with enclosed car shipping. But there are some obvious differences between the two.
Enclosed auto transport is a type of car shipping service that features a car being placed into the back of a truck that has a hard metal top and sides on it. It's designed to provide all-weather protection to cars that are being shipped and is ideal for those shipping Teslas, Ferraris, Lamborghinis, Maseratis, Mercedes-Benzes, and other high-end vehicles.
Covered car transport, on the other hand, is a type of car shipping service that features a car being placed into the back of a truck that has a soft canvas top and sides on it. It can also be used to ship many of the high-end vehicles we just mentioned. But it doesn't provide quite as much protection as enclosed transport does.
With that being said, covered car transport is still a much better option for many vehicle owners than open transport is. It provides a nice middle ground between the more expensive enclosed transport service and open car shipping, the cheaper car shipping option.
What Are the Benefits of Using Enclosed Car Transport Vs Open?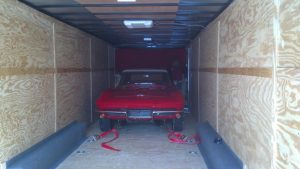 Both enclosed auto transport/covered shipping carriers and open transport carriers will get your car where it needs to be quickly without causing any damage to it when you work with a trusted car shipping service (more on that later!).
But there are some advantages that you'll enjoy when you choose to use a covered car carrier instead of one that will leave your car exposed to the elements. Check out some of those advantages now.
1. Blocks the Sun From Beating Down on Your Car
If you're only shipping a car a few hours away, you probably won't have to worry about the sun doing too much damage to it. The sun and its UV rays won't be able to cause much chaos in that short period of time.
But if you're shipping your car halfway or even all the way across the country, it's a much different story. It's likely going to take at least a few days for your car to make it to its new location. And during that time, the sun is going to take a toll on it.
When the sun spends a few straight days beating down on your car, it can affect its paint job. It can also cause certain aspects of the interior of your car to fade.
By placing your vehicle into the back of a covered car hauler instead of one that's open, you can stop the sun from wreaking havoc on your vehicle throughout the duration of its trip.
2. Stops Dust, Dirt, and Other Debris From Coming Into Contact With It
The sun isn't the only thing that's going to cause problems for your vehicle if you agree to put it on the back of an open car carrier. There is also going to be tons of dust, dirt, and other debris that will fly up and come into contact with your car during shipping.
A little bit of dirt and dust won't cause too many problems with your car. A simple car wash will get rid of them right away once your vehicle makes it to its destination.
But if you're shipping your car across the country and it travels through places that are especially hot and dry, the combination of dirt, dust, and sun could really impact your car's paint job. It could make it very difficult to get it clean later, and you may even need to end up detailing the whole thing.
There is also a chance–a small chance but a chance nonetheless–that a larger piece of debris could come into contact with your car when it's on an open car carrier. It could cause dents, scratches, and even break a window in some cases.
The risk of putting your car onto the back of an open car carrier just won't be worth it for some vehicle owners.
3. Prevents Rain, Snow, and Hail From Falling on Your Car
As if the sun and the dirt and debris out on the road weren't enough, there's yet another thing that could potentially cause problems for a car on an open car carrier. We are, of course, talking about precipitation.
Chances are, the driver who is shipping your vehicle is going to run into rain, snow, hail, or some other type of precipitation at some point during their journey. And while a little rain won't cause much of a disturbance, a hailstorm most certainly could.
The last thing you want to do is have your beautiful car show up at its new location with little dents all over it caused by hail. Hail damage can bring down the value of your car in a big way and hurt its appearance.
You can prevent this from happening by utilizing covered car shipping instead of open car shipping.
4. Deters People From Touching Your Car
Are you going to be shipping a car that is going to attract a lot of attention out on the road? We're looking at those of you shipping cars like Teslas, Ferraris, and the other vehicles we mentioned earlier.
If so, there might be people who attempt to take photos of your car and even touch it when it's on the back of an open car carrier. And unfortunately, you won't be there to stop them.
You can prevent your car from attracting any sort of attention out on the road by putting it on the back of a covered car carrier. Whether the cover is made out of hard metal or soft canvas, it'll stop people from making a big deal about it as it travels down the road.
5. Keeps Your Car in Showroom Condition
There are many people who ship vehicles all across the country for the purpose of showing them off at car shows or selling them at car auctions or car dealerships.
If you fall into this category, it's important for your car to leave your home or business in showroom condition and, more importantly, show up in showroom condition when it arrives at its destination with our door to door transport service.
This is going to be pretty much impossible with open car shipping. Your car will get dirty and need to be brought back to life once it arrives.
But with covered car transport, you can keep your car in showroom condition as it's being shipped. This will cut down on the work you'll need to do on the car later to get it ready for a show or an auction.
6. Allows You to Ship a Car More Quickly
This is arguably the most underrated benefit that you'll enjoy when you choose to go with covered car transport.
You can have a car shipped quickly when you use both open car shipping and enclosed transport. But most of the car carriers that have hard metal or soft canvas tops and sides on them are smaller than open car carriers.
Due to their smaller size, enclosed carriers can travel faster than their larger open counterparts. Car shipping companies can also load them up faster and send them on their way, which will cut down on the total transport time of your vehicle.
7. Costs Slightly More Than Open Car Shipping
As we alluded to earlier, you're going to pay a little bit more for covered car transport than you would for open car shipping.
The exact price depends on everything from how large your car is and where you're shipping it to how quickly you need it shipped and where exactly you're dropping it off at.
But in general, you're not going to pay that much more for enclosed transport when compared to open car shipping. And you'll be able to save money as far as cleaning a car goes and possibly detailing it when you ship it in a covered car carrier.
8. Provides You With a Peace of Mind
If you choose to put a very nice car on the back of an open car carrier, you're going to have at least a few sleepless nights in your future.
Even though your car will likely be just fine as long as you choose a trusted car shipper, you're going to ask yourself, "What if…?", more than a few times. You'll worry about everything from your car getting stuck in the middle of a tornado to your car falling off the truck that's it on.
That won't be the case when you settle on covered car transport. When you know that your vehicle is protected from the weather, you'll get a peace of mind that you wouldn't get otherwise.
You'll be able to sleep much better at night knowing your vehicle is just fine. It'll make the extra cost associated with enclosed transport well worth it.
Who Should You Trust to Provide Covered Car Shipping?
Before you schedule enclosed transport for your vehicle, there is one more thing we need to talk about. You need to think long and hard about which company you trust to provide you with a covered car carrier.
There are more than 4,000 companies all across the country that can ship a vehicle for you. But prior to picking one to ship your vehicle, you should make sure they're qualified to do it. There is absolutely no reason for you to work with a company that won't put the safety and security of your car at the top of their priority list.
Here are some qualities that every great car shipping service should have:
At least a few years in the car shipping industry
A fleet of well-maintained car carriers capable of shipping cars safely
Experienced and highly skilled truck drivers who know how to care for vehicles out on the road
A slew of car shipping services, including terminal-to-terminal shipping, door-to-door shipping, and more
Fair and affordable prices
Insurance that will cover any damage done to a vehicle that they ship
If a car shipping service doesn't seem to have these qualities, don't even bother considering them for a job. You want someone you can trust to ship your car as quickly as they can using covered car shipping.
Give Enclosed Auto Transport or Covered Car Transport a Try Today
Do you need to have a car shipped soon?
Whether you're sending it across your state or across the country, you should strongly consider using covered car transport to do it.
You should also look for the right car shipping service for your vehicle. It'll allow you to enjoy all the advantages of enclosed transport without having to worry about a thing.
If you would like to get your hands on a quote for enclosed transport car shipping, contact us today. We would also be happy to tell you more about our extensive car shipping services.